QUESTION:
NCM backup fails in CentOS 7 which runs an older version of traverse (I.e Prior to the traverse release 9.5.10)
ERROR:
2019-04-18 15:04:32,690 j.s.PerlScriptProcessor[DGERequestProcessor-ConfigManagement--6648493052905134000-sapphirePerl]: (WARN ) Attempt to reload ZipTie/Adapters/Cisco/SecurityAppliance.pm aborted.
Compilation failed in require at (eval 29) line 1.
BEGIN failed--compilation aborted at (eval 29) line 1.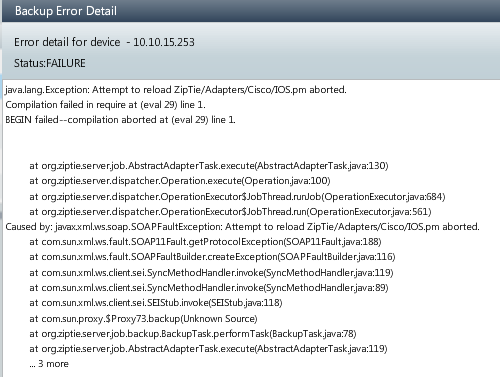 RESOLUTION:
Download the new Perl Module from download link
unzip the perl.tar and copy the same to <Traverse_Home>/apps/ (If no Perl available)
Edit <Traverse_Home>/ect/emerald.properties  and change the location of the Perl Module for the below parameters:
sapphire.perl.scripts.executable=/user/traverse/apps/perl/bin/perl
Restart the monitor (DGE) component on the DGE/DGEx to reload these changes.
 Note: Traverse supports Perlv5.10 on centos 7 (To check use command:'<Path to Perl> -version')
APPLIES TO:
Below the traverse release 9.5.10