As of QuoteWerks Desktop Version 5.5 Build 5.13, QuoteWerks offers a native integration with BMS. This version is the minimum supported version.
Key Features
The QuoteWerks integration enables you to:
Build QuoteWerks quotes using BMS contacts.
Automatically create a corresponding BMS opportunity.
Push the QuoteWerks quote into BMS and relate it to the opportunity.
Automatically update the BMS opportunity and quote when the QuoteWerks quote converts.
Pushes items from other product data sources into BMS, including recurring services.
Allows you to quote BMS products and services.
Schedule follow-up activities in Kaseya BMS for your quotes
Attaches PDFs to the BMS opportunity so users without QuoteWerks can view quotes.
Download
In BMS, Navigate to Home > Downloads.
Click download button for QuoteWerks Connector (New!).
You will be redirected to https://www.quotewerks.com/updates/UpdateAgent.asp.
QuoteWerks Resources
For an overview, see QuoteWerks Integrates with Kaseya BMS, on the QuoteWerks website. For user help, take advantage of QuoteWerks user guides as well as the embedded videos below.
Recommended Settings
Ensure that all mappings are complete under Contacts > Contact Manager Setup > Kaseya BMS setup.
Ensure that your business process matches your selections so the interaction matches your expectations.
Ensure that any services you define in QuoteWerks have an Item Type that is mapped in Products > Mappings > Product Types. Then set your default Item Type to 'Product'.
Integration Notes
The integration requires you to create a corresponding BMS opportunity.
BMS opportunities and quotes are orphaned if the QuoteWerks quote is deleted.
Edits to opportunities and quotes in BMS may be overwritten by QuoteWerks.
The .dtf file that is attached to opportunities is a link that can open the quote in QuoteWerks Desktop.
Migrating from QuoteWerks Connector
Uninstall the QuoteWerks Connector plugin built by Kaseya.
Remove the published menu item.

The BMS Services menu item is available when you click on products from the QuoteWerks toolbar.

Remove the private API key of the old BMS integration from within QuoteWerks:
To uninstall the plug-in:
Quit the application.
Open Control Panel.
Uninstall the plugin using the Add/Remove programs wizard.
To remove the menu item:
Select the Tools > Customize Menu > Products Menu.
Select Publish Menu Items.
Choose BMS Services.
Click Remove.
Click OK.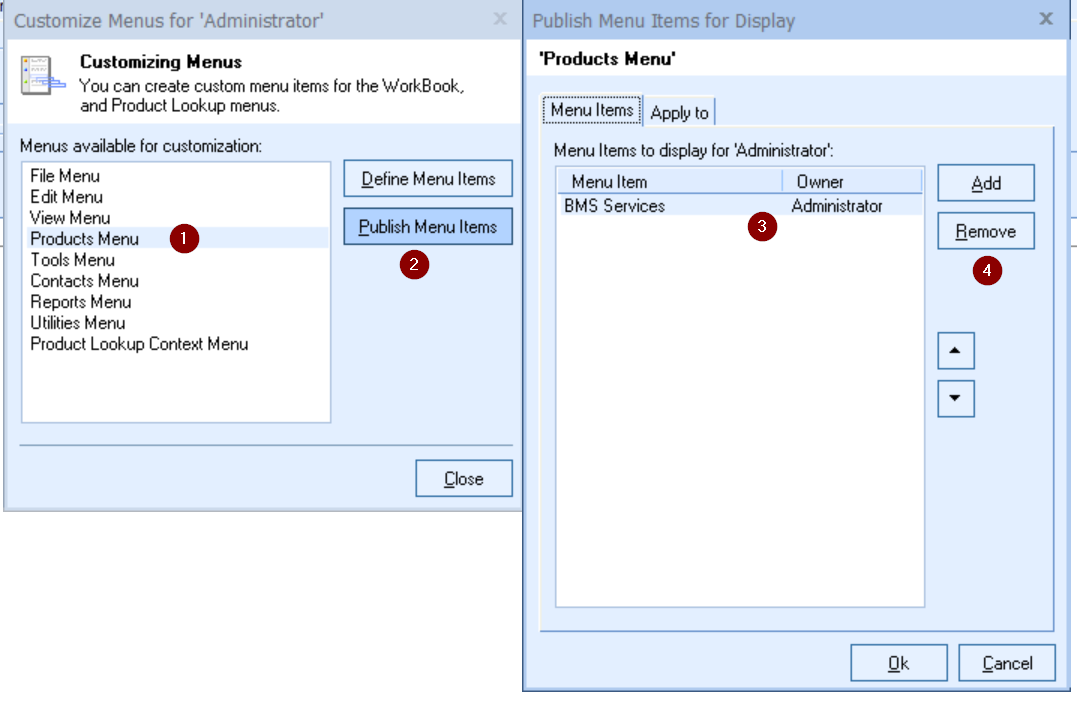 Remove the BMS API Access Key:
In QuoteWerks, Select Tools > Options > Security > API Access.
Highlight and Delete the access key used by the previous Kaseya integration.