SUMMARY
Process for reimaging Unitrends Recovery-Series systems using factory imaging including instructions for burning a DVD or creating a bootable flash drive
RESOLUTION
This article contains the following sections which are linked below for quick reference.
Before reimaging your physical appliance, pull the information for your current license. The License Key and Feature String will need to be applied after the system is imaged. If the Expires line item has a date value, you will need to include it as well.

Navigate to Configure (page on left) > Appliances (tab, above and select the Appliance Name) > Edit (button) > License (tab)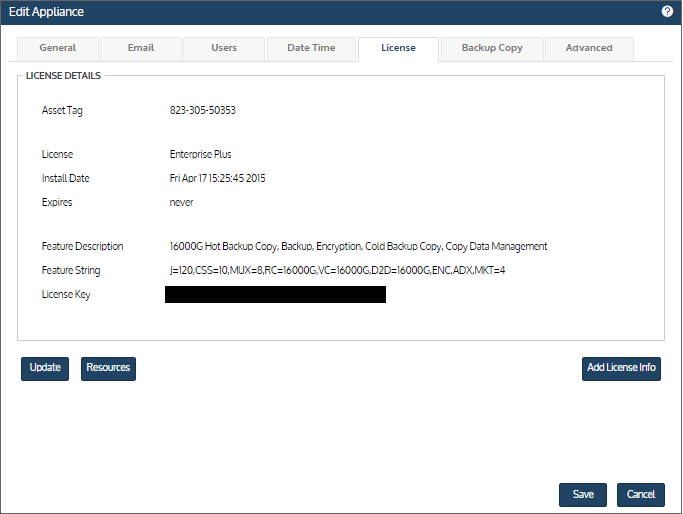 Copy and paste the values that you need to a simple txt editor and save it. You will needed after you have deployed your system to enable full functionality and support for your appliance.
IF THE APPLIANCE USES ENCRYPTION:  Verify you have an encryption key backup available, or, make a new encryption backup now.  
Create USB imaging media
This process should be used to create the image media for any system listed as Generation 8 and 9 appliances, as well as legacy Generation 5, 6 or 7 appliances compatible with 10.2 or newer imaging media.  For legacy Generation 5, 6 or 7 appliances, Create a bootable USB Flash Drive (Alternate Method) may be used as an alternative to using Rufus. Need help determining the generation of your appliance or which ISO to use? See Which Image Media Does My Unitrends Appliance Use?
Using your Windows computer, download RUFUS (

https://rufus.akeo.ie/

)


Obtain the most recent ISO factory image your appliance supports image ISO from here.  Reference the article titled "Which Image Media Does My Unitrends Appliance Use?" for the correct media release.



 IMPORTANT! 

 Imaging media is specific to the appliances listed in this kb. If the incorrect media image is used, the reimage process will fail or you may loose vital functionality. Make sure you have the correct image before proceeding!


You will need a 4GB, 8GB, or 16GB USB Flash (Thumb) Drive for this step.


CAUTION: DO NOT USE WINDOWS GO TO CERTIFIED DEVICES, Pass-Through docks and/or SECURE USB devices as they may include internal controllers/secondary partitions that will prevent successful reimage. Standard generic USB devices are recommended.

Use RUFUS to take the image file you downloaded and make the USB Flash drive bootable. You must run the RUFUS program in Administrator mode. Ensure the Partition scheme is set to MBR:
 IMPORTANT! 
This will ERASE your USB device!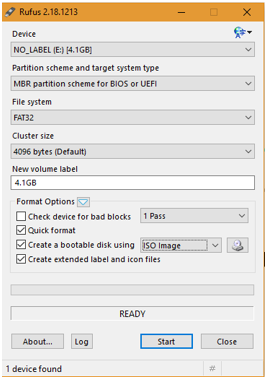 Reimage Process for Generation 5, 6, 7, 8, or 9 systems using current version USB media
Once the USB is prepared, and safely removed from your Windows system.
Disconnect any tape hardware and remove archive disks from any bays before proceeding. NEVER image a system while archive devices are attached. (Please note the disks in the front of your Unitrends device are not external media. Please DON'T disconnect these drives)

Shut down and completely power off the Unitrends appliance.  Running appliances will not re-POST to detect the USB boot device, they must be powered off and have the device connected in that state and boot cold.  
When you insert the USB thumb drive, please make sure use the correct USB port for your device. 

The black ports supports USB 2.0 and are the only ports that should be used.

 

The blue port supports USB 3.0 but may not function correctly during the imaging process on previous generations.
Hint:   If you are experiencing issues during the imaging process, please be sure the image is burned properly and the USB drive is add only after the system was fully shut down (see step 3).
Once it is in the the USB slot inserted full, please power on the Unitrends system
On many models, you may be prompted to press F-10 to select a boot device.  Doing so "may" present the USB device as a boot option.  If so, select the USB device to boot and proceed to step 12 below.  If F-10 does not allow booting to USB, restart the appliance and proceed with the steps below to set your BIOS boot order manually. 
At the bios splash screen on boot, press the F2 for Gen 9+ or DELETE key for Gen6-8 to enter the BIOS when prompted. For Gen 6-8, if you are asked for a password enter: backup
Use the arrow keys to navigate to System BIOS-BIOS Boot Settings for Gen 9 or BOOT-Hard Disk Drives for Gen 6-8.
Gen 9: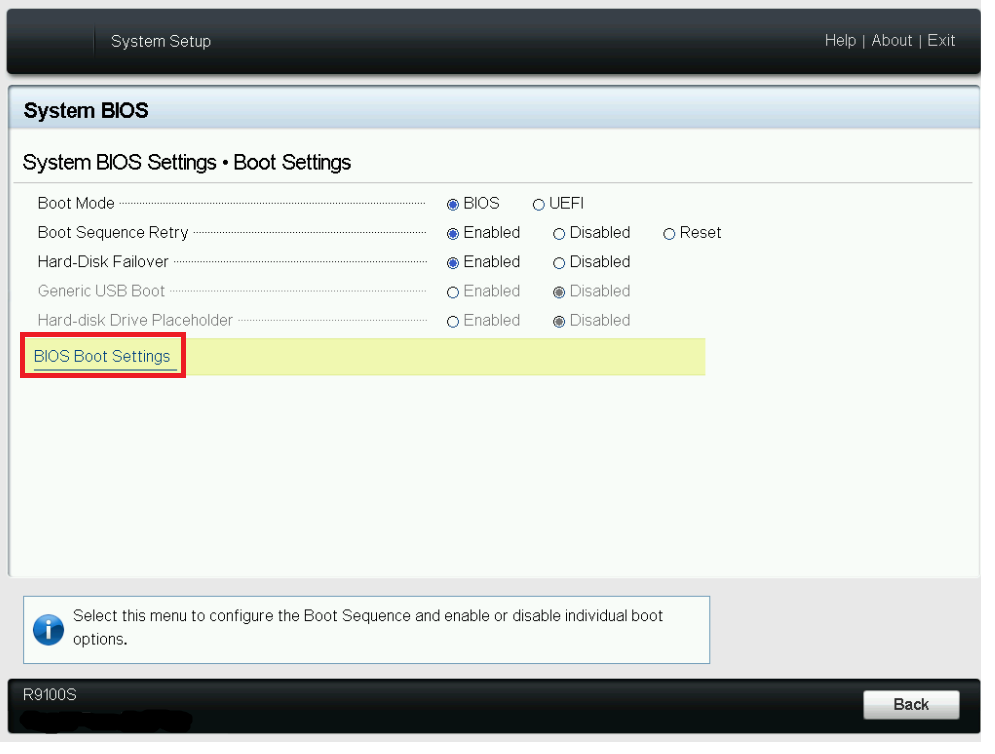 Gen 6-8: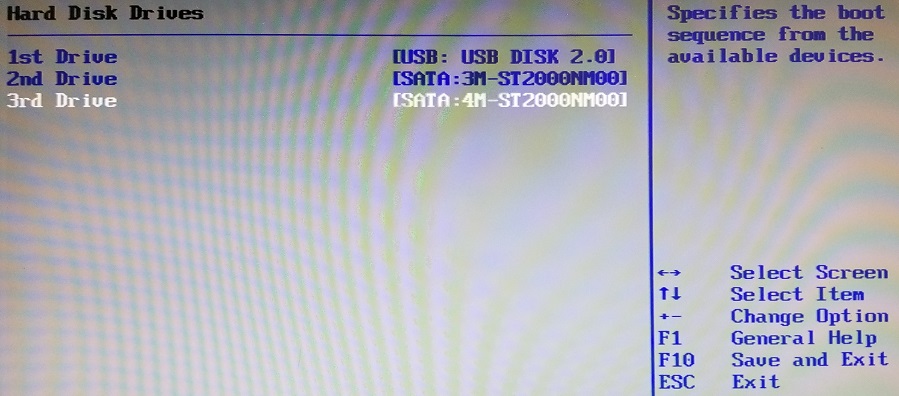 ​
Select the 1st Drive and press Enter. A dialogue box is presented. Ensure that the USB item is selected, and press Enter.
Gen 9:Gen 6-8:

Select OK to save the updated configuration.
Next, you will be asked to select the generation of the appliance. Generally, the first number of the asset tag will indicate the appliance's generation. The asset tag is included in the licensing information capture in the Prerequistes steps. For example, a 9004 is a generation 9 appliance. For more information on each generation of appliances, see the Datasheets on the Unitrends Documentation page.
Upon successful reboot onto the USB device, you will see a menu with several options. Immediately move the arrow keys to stop the default countdown (which will try to boot from the hard disks).
Gen 8-9:
Gen 6-7:

Choose the "Platform"  (e.g.: using the example below, Recovery-9002 is chosen. The Platform is delineated in the first set of digits and letters of the appliance's Asset Tag. 

Some models currently appear in more than 1 menu.

  Ensure you select the CORRECT generation for your model.
Gen 8-9:
Gen 6-7

You are provided with a final WARNING.

Proceeding will cause data deletion that destroys all data on your appliance!

 If this is what you want and expect, please type YES then press the Enter key. The system will now go into the Installation Mode. Please do not interrupt this process.

The "Running post-installation scripts" is the final section of the installation process.


When the system reboots, you will be asked to enter the Asset Tag of the system. This is located on a sticker at the back of the unit and is in the format of xxx(S)-xxx-xxxxx. Enter the value using the numbers buttons above the letters on the keyboard. DO NOT USE THE NUMBER KEYS as they are not compatible. Use the backups space to remove them).

After you click Enter, look at the bottom of the screen for the statement: Installation Complete. Select option 3 on Gen 8-9 or press <ENTER> for Gen 6-7. Remove the USB Flash device and press the Enter key to reboot.

AFTER REIMAGE...
You will need to set the IP Address and DNS settings using the Unitrends Backup Initial System Setup Menu:

To configure the IP Settings, select:  1.  Network Setup (then) 1.  Configure IP, Netmask and Gateway
You should still be in  Network Setup. To set the DNS, select:  2.  Configure DNS
You can now use Google Chrome to connect to the Unitrends Web Administrative Interface and complete the Setup Wizard.

After completing the Setup Wizard,

you will need to set Instant Recovery to 1% following

using the KB titiled Newly imaged Recovery-Series system (or Reimage) - no backups complete, 1%, or out of space .
NOTE: If you do not do this steps, you will get Out of Space messages.

IF YOU PRIOR USED ENCRYPTION: 

You MUST at this point import your encryption key backup file.  Skipping this step will render all prior cold copy medium unrecoverable.  
You can now license your Unitrends System.
If you have been making cold backup copies of your appliance you may now follow the Appliance Disaster Recovery steps from the administrator's guide to import your appliance's prior configuration, backup jobs, and protected asset associations.  If you have only been making backup copies to another privately-owned Unitrends appliance (Hot backup copies other than to Unitrends Cloud) your appliance does not have the Cloud Self-Service feature required to import the system metadata backup to perform disaster recovery from the backup copy connection.  To perform disaster recovery in this scenario you may follow the steps from this kb article guide on performing an appliance disaster recovery.
Reimage Process for legacy systems using DVD media
This process is only used today when imaging with Generation 4 or older systems using the 7.4 or 6.1 image media.  please download this media and burn it to a physical DVD disk before proceeding.  Ensure you use a proper ISO imaging application and utilize a verify burn option. 

Step 1
Remove any archive devices and/or drives.
Please remove any tape drives.                                            
*****Verify if there is a 10G NIC installed in your appliance**** 
If present, the NIC will need to be temporarily removed during the reimage process. 
Once the reimage has completed the NIC can be reinstalled.
Insert the imaging disk in the appliance's DVD drive and boot the device to the disk.  
Step 2
Select Image Appliance Appliance (Old-Models) from the Image menu and press Enter
Note:  Next-Generation appliances are denoted by a "S" following the first three digits in their asset number and are not shipped with a DVD drive.  For USB imaging, first Create USB imaging media then follow Re-image a Generation 5, 6, 7 or 8 appliance using USB.
Select the appropriate Appliance model from the model menu
Step 3
Installation Complete. Press to reboot. (remove DVD before the system begins it;s boot process)
Step 4 
DPU XXX detected. Is this correct? (Y/n, default=Y)
Step 5
Please enter the asset number (xxxx-xxx-xxxxxx) located on the front of the DPU: PLEASE ENTER THIS CORRECTLY.  
Step 6
Testing complete. Please press to reboot…



 
Create a bootable USB Flash Drive (Alternate Method)

Resolution—the steps required to resolve or answer the problem.
Download latest the factory image.
Install imageUSB and ext2fsd on the Windows machine
Plug-in the USB flash drive to the Windows machine
Start imageUSB and select the correct drive (Step 1)


In Step 2, select "Write to UFD"
In Step 3, click the Browse button to select the . bin Appliance Image that you downloaded.
Click "Write to UFD"  button in Step 4.
Once completed, exit from imageUSB and safely remove and eject the USB flash drive.
Insert into a USB 2.0 port on the Recovery Appliance and continue the imaging process.
Required Software/Hardware:
For generation 4 and older systems that require imaging with 7.4.0-3 image media, additional steps are required.  These steps do not apply if you have successfully imaged your system with 10.0 or higher media. 
Ensure your appliance can reach the internet with your appliance.  
Update your appliance to release 9.1.1-3 using the legacy web UI
Check this article for Cent OS 6 Migration Prerequisites for Physical Appliances

If your system passes pre-check and is compatible with Cent OS 6, contact Unitrends Support and they will provide information on how to migrate to CentOS 6.  This must be completed prior to performing a System recovery from archive or before adding and configuring clients if supported by your system.  Note, Support for this process is limited or potentially refused after Aug 31 2017 as migration services under Unitrends Support were communicated as no longer covered or available after this date.    
If your system is not compatible with CentOS 6 or if an offer to assist in migration is rejected, then your system is at the latest supported release as of 9.1.1-3, and you will need to contact a Unitrends Partner or Sales Rep in order to replace your appliance and utilize newer software.  
NOTE: USB Devices greater than 16GB:  We recommend using USB devices between 4GB and 16GB as it eliminates the problems in formatting and is what our Quality Assurance team has tested it successfully on. The USB device must be be formatted using the MBR.