SUMMARY
This article describes supported cold, hot, and seeding backup copy methods by Unitrends appliance platform.
ISSUE
Each Unitrends platform, which includes both Recovery Series physical appliances and Unitrends Backup hypervisor-hosted virtual appliances, supports a different array of cold backup copy technologies. In this article we provide a chart clarifying which modes are supported across these platforms.

Note: Cold backup copy is equivalent to the legacy term archive. If you are using the legacy user interface, the methods in the table below describe the supported archive modes for each Unitrends platform.


RESOLUTION
RIGHT CLICK THE IMAGE BELOW AND OPEN IN A NEW TAB TO SEE A LARGER VERSION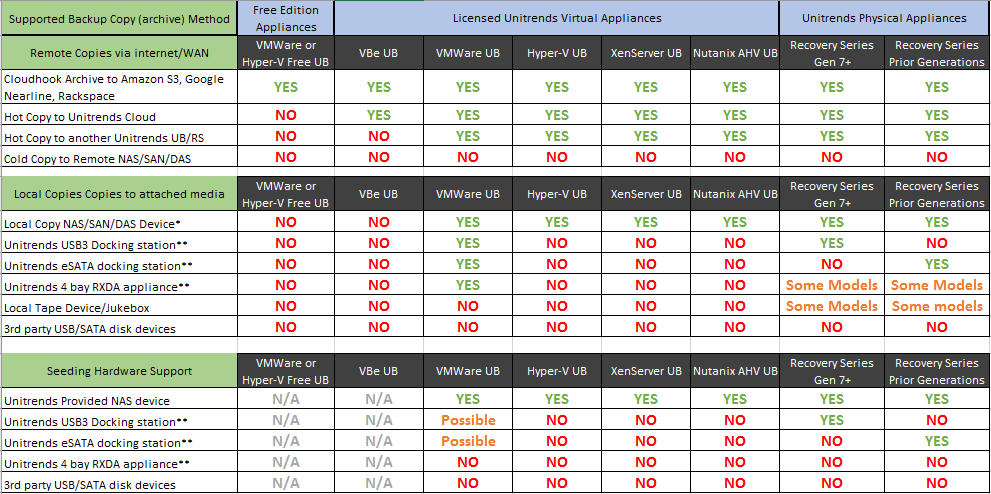 *Some restrictions and warnings apply to NAS systems:
Cold backup copy (archive) to NAS devices are not intended to be rotational. For the best experience rotating media offsite, leverage Disk or Tape. NAS may be used in offsite rotational schemes on 10.3.0 and higher solutions when multiple devices with independent schedules are used.
Shares hosted by Windows OS on general servers may be considered insecure and are also subject to application, NTFS or permission modification that may render data unrecoverable without warning. Use of vendor managed NAS appliances is recommended by Unitrends for reliability.
Windows Native Deduplication is not supported.
Using a NAS share over a remote connections may be subject to network performance, disruption, or timeouts resulting in job failures and will typically fail to meet security compliance standards.
CIFS mounts for Cold Copy currently require SMBv1 support in the NAS device. If you cannot enable SMBv1 support in your device, configure NFS mounts instead.
Some custom or vendor specific NAS configurations may not be compatible.

** Unitrends Single Bay USB Docking Stations and 4 bay RXDA SATA 1U dock support a limited listing of drive models and systems. See Archive Troubleshooting for a list of officially supported disk models and required cable connectivity. Unitrends does not require individual disk drives to be purchased directly from Unitrends, but support troubleshooting efforts will be limited on disk models not certified by Unitrends QA department. NEVER USE GREEN DRIVES or any drives that enter a sleep states with the Unitrends Appliance as this may result in kernel panic or other issues up to and including complete appliance data loss. Drives will exclusively be supported in USB or SATA docking stations provided by Unitrends. 3rd party USB drives or docks will not be supported in any way.

***See KB 3332 Connecting the Disk Archiving Unit (RXDA) to Unitrends Enterprise Backup. To use a Unitrends Provided eSATA dock for Seeding, a controller card and cable bracket of a specific model documented in this KB must be installed inside the ESXi host the UB lives on. For USB3 docking stations, the VMWare host must have a VMWare Certified and supported USB3 controller (not all are). When using with seeding, cold copy archives should be tested with an available device prior to ordering a seed system. A NAS seed may be required for some host hardware configurations where dock compatibility cannot be confirmed or is not listed as supported in this KB.

Tape Devices: Any physical tape jukebox conforming to SAS, or SCSI, or Fiber Channel definitions may theoretically be attached, however, it is the responsibility of the reseller or customer that attaches such a device to Unitrends Physical Appliances to ensure correct operation via correct hardware configuration, software configuration, and software tool support. Although specific models may not be officially tested, any SAS or SCSI or FC tape device that supports the MTX control commands and that does not require installation of 3rd party drivers or software for RedHat/CentOS 6 support should function as an alternative backup copy target device. Tape systems must be connected to a single Unitrends System and are not supported to be connected to other systems concurrently. UB Virtual Appliances do not support tape cold copy. Virtual Tape Library systems are not considered to be the equivalent of physical tape systems and are not expected to function.
NOTES
Note: Seeding Services are a fee-based service provided by Unitrends Professional Services or our partners in order to efficiently move large initial data sets to hot copy targets at other locations. Customers with private targets who wish to perform seeding operations are not required to purchase seeding services, however this in many cases will be necessary due to source/target seed device compatibility. Seeding to Unitrends Cloud may require the purchase of an accompanying service if data cannot be reliably transmitted over the WAN in 21 days or less. If seeding is purchased and not required it can be easily refunded, but if not included and needs to be added, onboarding services may be delayed. Unitrends loans customers the hardware required to perform a seed as may be necessary as part of the service, archive devices are not required to be purchased separately.

Unitrends Support will happily review logs for data failures in seeding operations where approved compatible hardware is in use, and where hot copy configuration has already been done successfully between systems with active support agreements in order to diagnose or correct code or data failures that may prevent a valid seed effort from being successful. Note however support cannot assist in the basic setup or processing of seeding steps without accompanying seeding services paid for as these are services our resellers and partners charge for themselves. Support for replication initial setup/configuration and seeding will be limited to troubleshooting failures, resetting environments to default configurations, or discussing best practices, but Unitrends Support will be unable to help perform operations personally that are expected to otherwise be successful.