IT Complete Single Sign-On allows users to navigate to all subscribed Kaseya products via a single account. You will then be able to switch between applications without having to log in to each individually.
Please note
In order for the app launcher to show you must select 'Remember me on this device' if 2FA is enabled, or disable 2FA inside of your Organization Settings.
Pre-requisites
IT Provider Admin access to enable the Single Sign-On feature


Navigate to your account > Organization settings > Security tab, enable Single Sign-On


IT Complete Account with admin privileges. If you do not have KaseyaOne access, you can request it here

Authenticator app for 2FA for KaseyaOne access
Setup
On the login screen, click the Log in with IT Complete button.

You will be directed to your KaseyaOne account for which you'll need your


Username
Password
Company Name



Enter your authorization code for your KaseyaOne account and click the Login button
Once successfully logged in to KaseyaOne, you'll be asked to connect your two accounts: myITprocess with IT Complete. Click the Connect button.

Enable Log in with IT Complete at the user level
Once an Admin user has enabled IT Complete at the global level, end-users need to enable the feature at the user level in order to make use of the SSO feature.
Click the My Account menu and select

Enable Login with IT Complete
You will be redirected to Kaseya One login.
Click on My

Settings

, you should now see Disable Log in with IT Complete.
You can logout and login using IT Complete for your next sessions.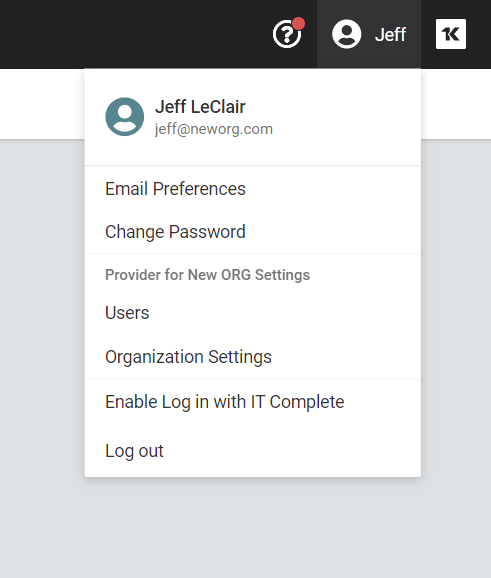 Disable Log in with IT Complete
As an Admin
To remove the link between your myITprocess account and KaseyaOne you will have to turn off this Integration - this setting impacts all users for your account

Navigate to your Account menu > Organization settings > Security tab
Log in with IT Complete and change the toggle button to off
This will disable the connection between PSA and Kaseya One tenants.
At the user level
To disassociate your user account with KaseyaOne

Navigate to your Account menu > Disable login with IT Complete
This will remove the link between your myITprocess user account and your KaseyaOne account