This article will cover the full reviews list, filtering, and review options.
The default view for the list of reviews shows those that have been assigned to you as well as reviews that have yet to be completed by the vCIO. You can change that view by clicking the filter icon.
Also present is the review's score. A zero will show for the review if it has not yet been completed by the vCIO.
Please note: reviews that contain internal use items may impact the review score.
Note: If you change the filters and navigate away from the Reviews page, those filters reset to show you only reviews that are in progress.
Tip: To re-open completed reviews, clear the filters, select Completed and then click the Details link to change the status back to either vCIO in Progress or Engineer in Progress.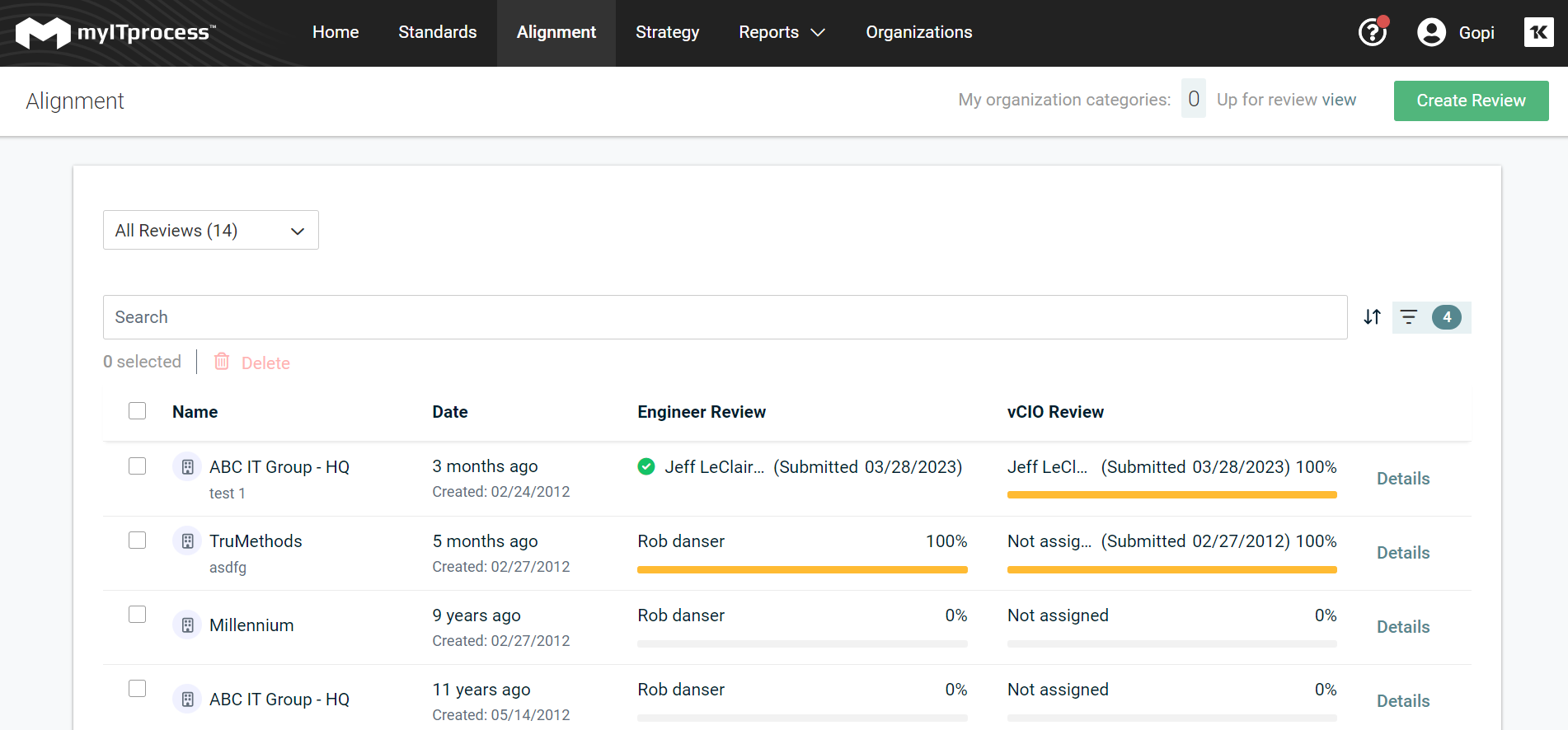 Filtering
At the top of the page are two filtering options. On the left, you can select to see My Reviews and All Reviews. You will see the number of reviews in those filters in parenthesis. The My Reviews filter will show all reviews where you are assigned as either the Engineer or vCIO. All Reviews will show every review whether assigned to you or not.
To the right of the page, you can filter down the reviews further. Clicking the filter will reveal:
Search
Organization
Assigned Engineer
Assigned vCIO
Review Status
You can apply as many filters of as many types as necessary.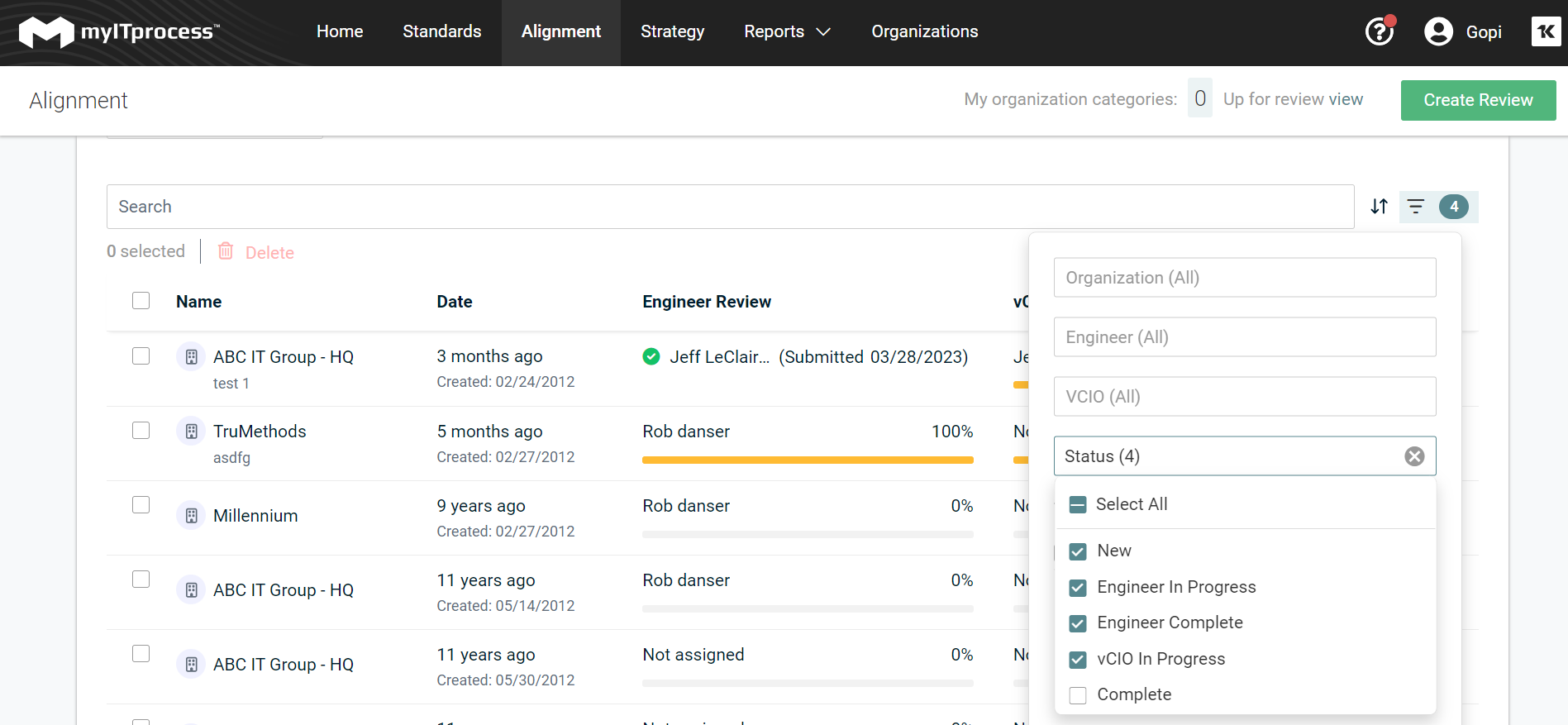 Reviews List
The reviews list will show all of the reviews that apply to the filters you set. To see more details about a review, hover your cursor over the review and click the Details link (located on the far right). As a result, a side panel will appear containing additional information. To open a review, click anywhere within the line of the review you wish to open.
Clicking Details will show additional information about reviews. From top to bottom you will see the review summary: Additional options, Summary, Categories, and Team Members.
Additional options:

Tickets- Show all PSA tickets for the review and created from questions
Report - Generate a report showing only data included in this review
Review Activity - View an audit report showing all review activity
Send Reminder - Send an email reminder to a user to complete a review

Summary - Shows basic review details
Categories - Displays all categories included in the selected review
Team Members - Shows the Engineer and vCIO that are assigned to this review. You can reassign resources here as well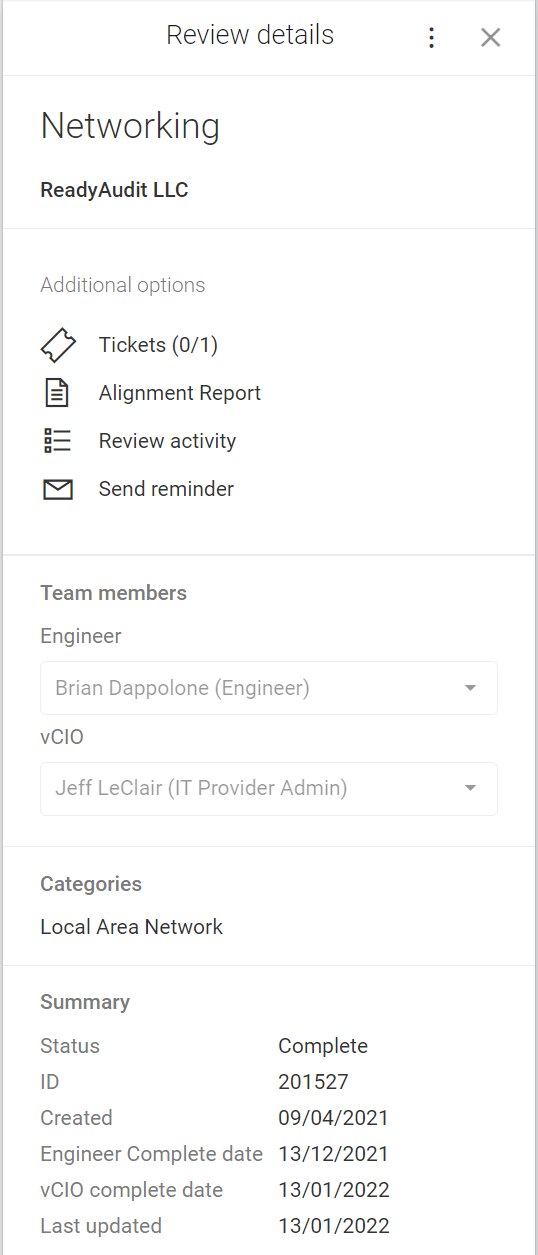 In the Review details menu, you can either delete that review or edit review details like the review's name or its status