This article covers different access levels users have in the software.
Different users have different access inside of myITprocess. Each user is assigned a role that allows them to navigate to certain areas of the site. User access can be set to None, Read-only, or Full.
Go to your account (avatar) menu, select Account settings, and then click the Permissions tab. You will see the three built-in roles of:
IT provider admin
vCIO
Engineer
Please note: The three default roles cannot be edited and by default only IT Provider Admins can create additional roles. To create custom permissions for users, please see below.
Permissions

Hovering over the exclamation point next to each role will reveal which areas a particular role has access to.
An IT Provider Admin has full rights and can view, edit and navigate to anywhere in the software. They're responsible for setting up myITprocess, keeping track of their subscription, and overall reporting.
IT Provider Admin
A vCIO is concerned with the secondary stage of the review process, reports and most importantly, creating strategic roadmaps for clients.
vCIO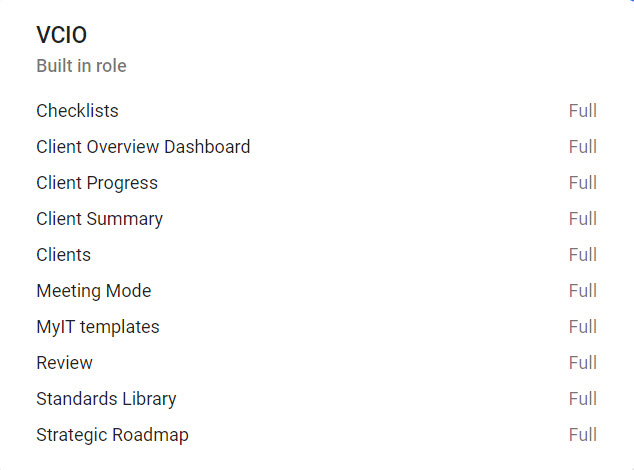 Engineers are responsible for assessing the client's environment in a strict yes/no format. Their view is tailored to gain the most amount of efficiency from this crucial role.
Engineer


Adding Custom Roles
Go to Setup → Permissions and click the Add role link. By default all user permissions are set to None. This allows you to customize who can see certain areas of the site. Provide a name for the role you are creating and select which areas of the site they can access and then click the Add button.
Note: Custom roles can be edited at any time. Any custom role that is assigned to a user cannot be deleted. To delete a custom role you must assign users to a role other than the one to be deleted.