IT Glue's powerful search feature allows you to quickly find information without you having to exit the screen you're working in. This article provides an overview on how to make the most of your search capability in IT Glue. For general best practices on this topic, please read our Search best practices KB article.
Search scopes in IT Glue
All search engines should be simple, efficient, and accurate. To achieve this, the IT Glue search feature intuitively selects the right search scope for you based on three scenarios:
If you begin your search outside of an organization, IT Glue Search defaults the search to a global level only. This means you are searching information from across all organizations you have access to.

For GlueConnect users only: You would like your global search to return results from across all your GlueConnected accounts. Refer to the next section in this KB for more details.

If you begin your search within an organization, IT Glue Search will search within the organization you are currently viewing. However, you'll also have the option of quickly toggling the search parameters between organizational and global. To do so, simply click the globe/house icon in the search bar.



GlueConnect Universal Search
For IT Glue users that are connected to more than one IT Glue account via GlueConnect, you can change the parameters of your global search to search all information across all GlueConnected accounts. This way, you can find information regardless of what organization or connect account you begin your search in. To access this feature, you require Read-only level and above access within IT Glue.
Toggle the search parameters to search across all GlueConnect accounts by clicking the icon in the search bar. It will shuffle between Global, Organizational, and GlueConnect. When searches are set to GlueConnect, your search will return all global results AND GlueConnect results. In the list of search results, you will see the GlueConnect account names under results that reside in connected accounts.

Keyboard shortcuts
Using keyboard shortcuts can make your search experience more convenient. From any screen in IT Glue, you can begin your search in three ways:
Clicking the Search bar at the top of the screen
Pressing "Q" on your keyboard
Pressing "/" on your keyboard
Note: All three methods above will only launch a global search if you begin your search outside of an organization. If you begin your search within an organization, press "Q" to launch an organizational search. Clicking the search bar or pressing "/" within an organization will launch a global search with the option of toggling to organizational search.
You can also search for a specific asset type by pressing one of the keys below:
| To search for... | Use shortcut... |
| --- | --- |
| Configurations | C |
| Contacts | E |
| Documents | D |
| Domains | W |
| Flexible Assets | F |
| Locations | L |
| Organizations | O |
| Passwords | P |
| SSL Certificates | S |
| Tickets | T |
For GlueConnect users only: Press "G" on your keyboard to launch the search bar automatically toggled to GlueConnect parameters.
A note on searching for passwords
If your IT Glue administrator has set up a Password Access Workflow, please note that clicking the Show password button or the Copy to clipboard icon on a password's search result will trigger a notification indicating that you have viewed or copied the password in question. Also, depending on the filters set by your Administrator, clicking Show Password or the Copy to clipboard icon will also trigger a notification.
A note on searching for IP addresses
If the IP of a configuration is associated with the IP address IT Glue field, it is searchable. However, if the IP is associated to the configuration in the PSA or RMM in a 'Custom Question & Answer Field' or a 'User Defined Field (UDF)' which are not mapped to any fields in IT Glue, the data becomes read-only. As this data does not reside in an IT Glue field in the configuration record, it will not be searchable.
Start searching in IT Glue
As you start typing in the Search bar, results will be listed in order of relevance. The top results are associated with the Name field in IT Glue, followed by results for other fields. All the Types will also be displayed.
Check the preview pane to the right of the results list to confirm you've found the right item. You can use the up and down arrow keys on your keyboard to navigate through more previews.
Clicking any of the items in the list will take you directly to its location in the platform.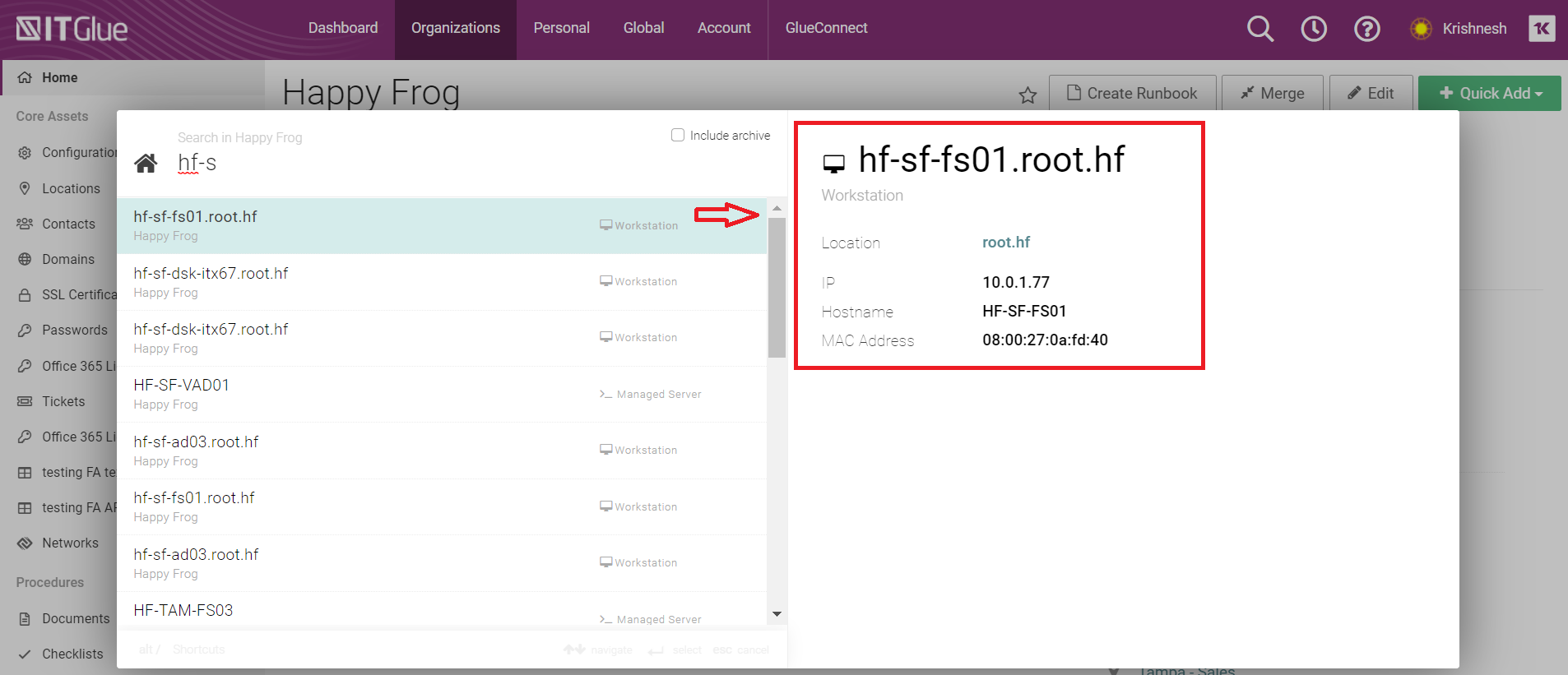 Search from any webpage
The IT Glue Chrome Extension enables searching IT Glue from any open webpage using the "Q" shortcut. For more information on how to set up the Chrome Extension, refer to our Quick guide for the IT Glue Chrome Extension and Using IT Glue Quick Search for Chrome Extension KB articles.
Show recently viewed items
Use the '.'(period) shortcut to quickly open and close the recently viewed items menu. The shortcut opens a drop-down menu that shows you the last nine items you viewed. Click on an item to be taken to one of the pages you want to revisit. You can also press the corresponding item number on your keyboard to visit the page.

Additional Quick Search shortcuts
Check out these additional keyboard shortcuts to further enhance how you use Search in IT Glue:
Action
Shortcut

Open the highlighted result in the current tab

Enter

Open the highlighted result in a new tab in the background (leave search open in the current tab)

Ctrl + Enter
(Windows)

Cmd + Enter
(Mac)

Open one result at a time in a new tab in the background (leave search open in the current tab)

Ctrl + Click
(Windows)

Cmd + Click
(Mac)

Cycle the search scope forward through the different asset types

Tab
(Shift + Tab reverses direction)

Toggle the search scope between the current organization and all organizations

Alt + G
(Windows)

Option+ G
(Mac)

Display keyboard shortcuts

Alt + /
(Windows)

Option + /
(Mac)

Clear text in the search input/Exit current context

Escape