The AuthAnvil 1.0.38 release includes new functionalities for Password Server on Demand feature, bug fixes. See the topics below for details.
Features
SQL Passwords Support
We now support Database passwords. You will be able to enter the machine, database type and credentials for this type. The DB type will be a dropdown with an other value. If you select Other, you will be able to enter the type of database.
Go to Password Server > Vault Manager > Vault
Select "Add New Password" button
Select "Database Password" in the "Password Type" field dropdown list.
Enter Database name in "Machine Name" field.
Select your data base type in the "Database Type" dropdown list.At the moment, you can create an sql password for MS/SQL, MySQL, PostgreSQL, Oracle, D2B database types: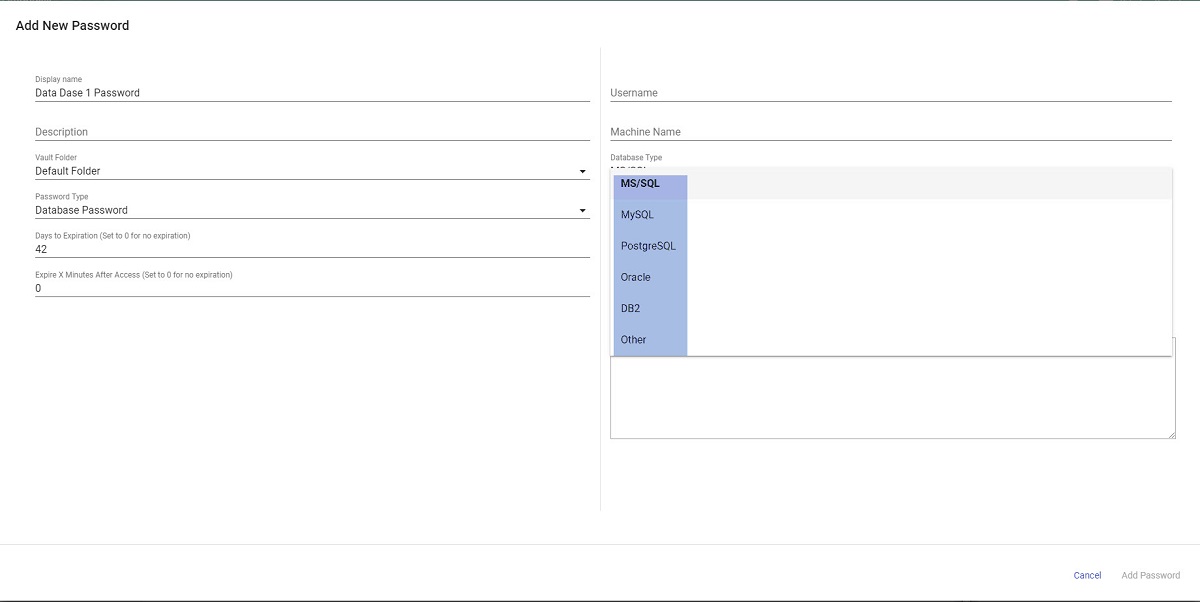 Enter "Username" and "Password" that you use to access the Database and save the password.
MSP Customer Vaults
You can now offer Password Server functionality to your Customers by allowing both your Customer Users in a sub-organization and Users in your primary organization to create Customer Vaults. In both cases, Users should have Administrator or Vault Manager role assigned.
If you want to enable the feature for your Customer, make sure the feature is turned on in the License Manager:
Go to "License Manager" > "License Allocation".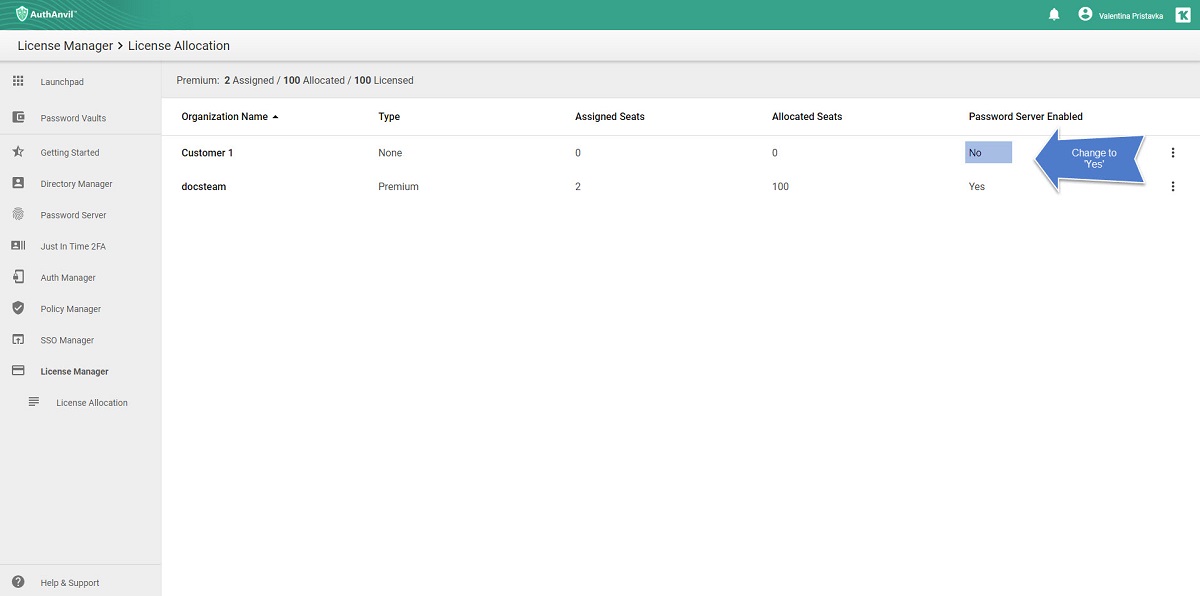 Edit an Organization you would like to enable the feature for.
Select the "Enable Password Server" checkbox and save the changes.
Now Users in your organization in Administrator and Vault Manager roles can create Password Vaults and Passwords for your sub-organizations
Go to "Password Server" > "Vault Manager".
Select "Add New Vault" button.
Select your sub-organization in the "Organization" dropdown list and save the vault. Now passwords can be added to the vault.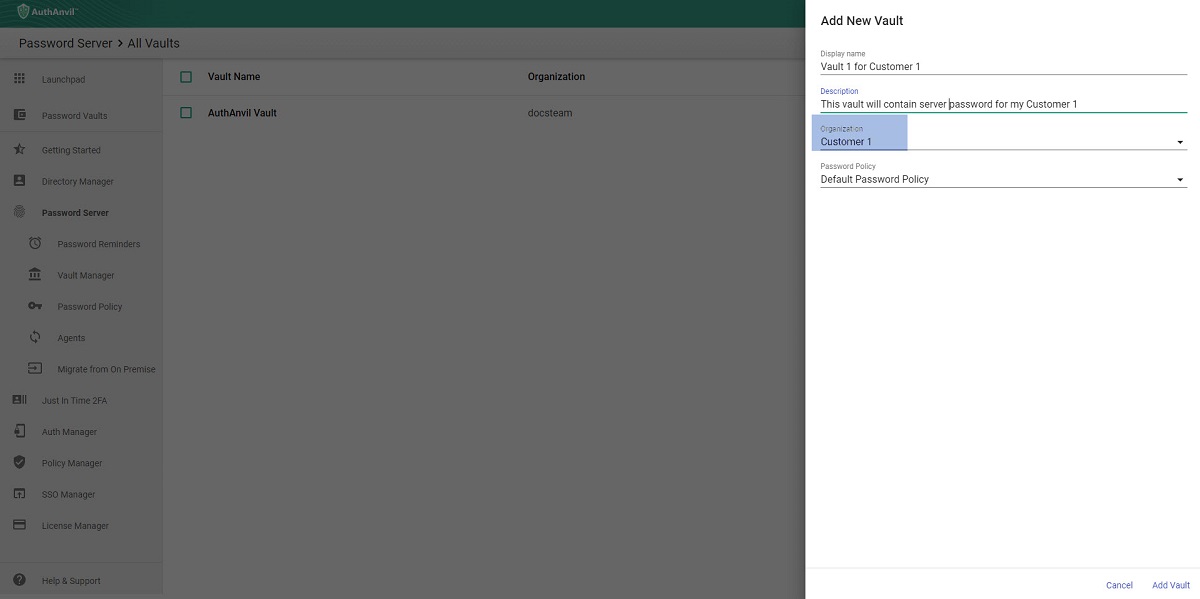 Your Customers' Users in sub-organizations in Administrator and Vault Manager roles can create Password Vaults too. The steps are the same as described above.
Enhancements
Password Vault Page Redesign
Starting with this release, there will be a new page layout for the Password Vault page to make better use of the space that you can navigate to by clicking 'Password Vaults' in the side menu.From now on, the Password Vault page displays Password Name, Username, and Password for each Vault. To see the information reduced you should select a Password to see more detail.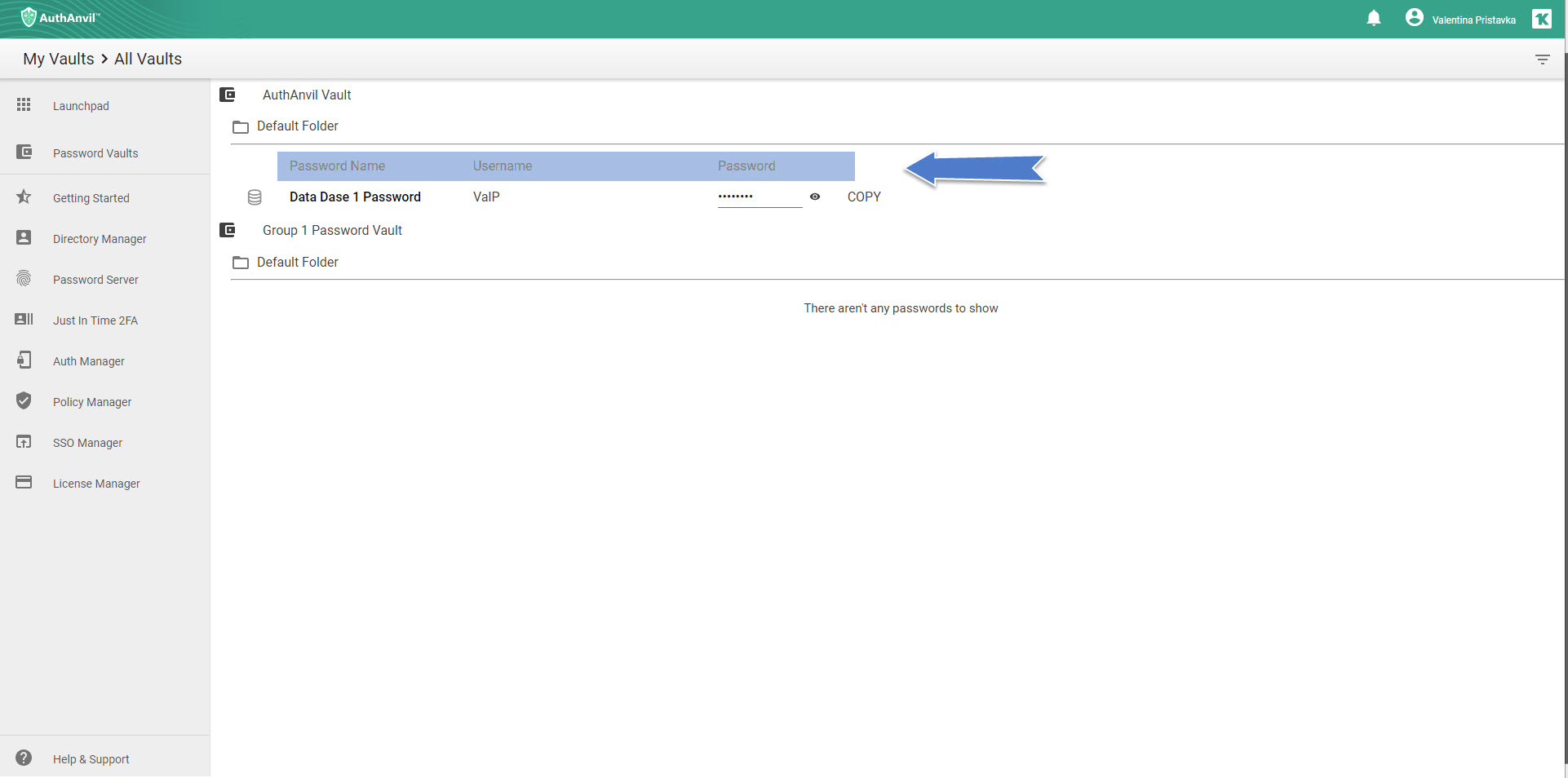 Reveal and Copy buttons remain unchanged.
Password Migrator Enhancements for Customer Vaults
The Migrator for moving from On Premises to OnDemand will now zip the vaults by customers. The import tool will have a dropdown for you to select the org into which you want to import the passwords.
Ability to copy a Password during the creation step
The Add New Password page has a Copy button.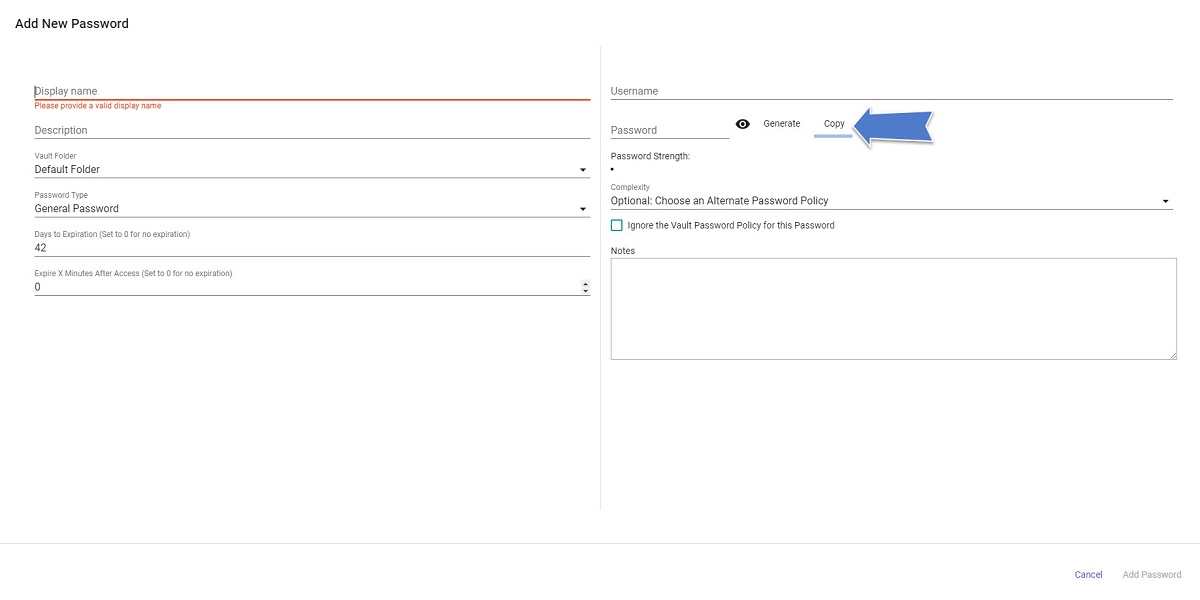 Now you can generate the Password from within the Password Server, copy it and paste it into another application (where paste is available).
Bug Fixes
Auth Manager
Fixed the text on the screen so both Copy buttons are alike (IAMV-10467).
Directory Sync
Fixed Service Accounts that no longer come over as part of the Directory Sync. This is back to the way it used to work. (IAMV-10267)
Fixed user Directory Sync. User that is created by the Directory Sync agent is now removed when the Agent is uninstalled. (IAMV-10226)
Password Manager
Fixed the Usernames length that are no longer cut off within the Password Vault screen. (IAMV-10414)
Fixed the APIs for Password Server that now validate the required fields. (IAMV-10488)
Fixed the error message when a duplicate agent name is entered. (IAMV-10384)
Fixed the SNMP fields. This includes creating separate Password Types for SNMP v3 compared to v1 , v2. (IAMV-10244)
Fixed disabled Agents Syncing. Disabled Sync Agents will no longer show an error when passwords fail to sync. (IAMV-10407)
Fixed PWS Migrator screen. The file path and secret key of the previously imported file is not displayed in the 'On Premises Password Server Migration' screen when User submits the file and comes back to the screen. (IAMV-10399)
Fixed syncing of Users with Password Servers. The user that is created by the Password Server agent is now removed when the agent is uninstalled. (IAMV-10225)
Windows Logon Agent
Fixed password change for 'Password must change on next logon' flagged users. This requires using the new windows Logon Agent. (IAMV-9111)