PROBLEM: After upgrading to or patching to 9.5 VSA server, Live Connect is not properly loading and fails to connect and just spins. No error is provided.
CAUSE: At this time the cause is speculated to be caused by password management app/plugins like Roboform. 

WORKAROUND:
Step 1 
Click on the "+" icon in the top right corner of the Live Connect application to create a new session.
Check if KLC now works fine in this new session.

If Step 1 does not help, your concern might not be related to this issue. Please gather required screenshots and Live Connect logs and create a new ticket with us.
STEP 2
If you are using Roboform's plugin or app.
Update Live Connect, and add an exception for KaseyaLiveConnect.exe as seen in the screenshot below.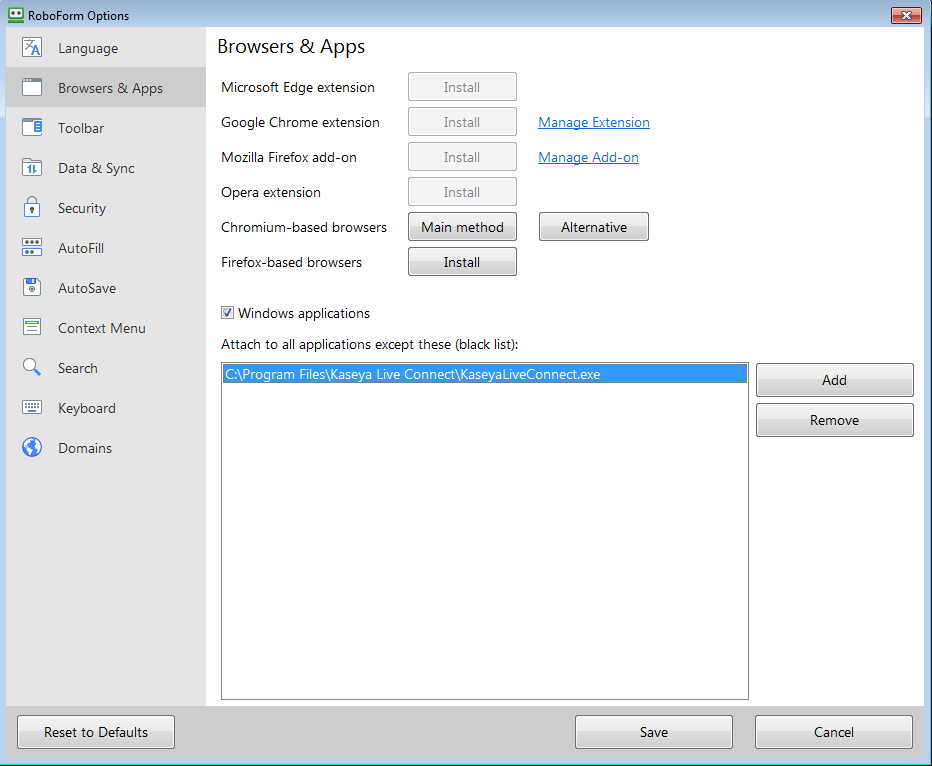 Full path : C:\Program Files\Kaseya Live Connect.
Restart the Live Connect app and confirm if the issue is reoccurring.
If the above steps did not help or you do not have RoboForm installed and if you have confirmed that Step 1 works as a valid workaround, create a new ticket referencing the ticket #234707 with the following details and logs.
- VSA version, patch level, and KLC app version
- Admin machine operating system version
- Any password management plugin or Application installed on the admin machine
- Logs from here
REFERENCE :
Problem Ticket #234707 / AF-3486
APPLIES TO: 9.5