December 01, 2022
The December release of VSA X features two major innovations to improve both the security posture of your IT ecosystem and supercharge the productivity of your team. The first innovation is Ransomware Detection, an optional licensed add-on that will protect your users, data, and network from ransomware. The second innovation is a significant improvement to our integrations with both Autotask PSA and ConnectWise Manage PSA to include the ability to build automated workflows based on ticket-based triggers.
Ransomware Detection
SMBs faced 31,000 ransomware attacks per day last year. Our community is under attack and we here at Kaseya knew we needed to do something about it. The new Ransomware Detection module for VSA X protects businesses against ransomware attacks and ensures control and ownership remain undisrupted.
VSA X will monitor the status of endpoints and generate alerts or tickets for any detected ransomware-style behavior such as file encryption/deletion, deletion of backups or even the presence of ransomware notes.
VSA X can then trigger automated workflows to isolate any infected machines and disconnect the endpoint from the network to prevent damage. Users can then leverage their favorite BCDR solution to restore the infected machine and make the network whole.
Additionally, the VSA X mobile app empowers you to isolate or revert isolation of an endpoint with just a click of a button from anywhere.
This new module is free until December 31, 2022 and will be $0.50/endpoint/month in 2023. Give you account manager a shout if you have any questions.
Two Way Ticketing with PSA
This release brings incredible updates to the PSA integrations for both Autotask PSA and ConnectWise Manage. This upgrade to the integration supports two-way tickets and also the ability to add/update/close tickets during Automated Workflows. Additionally you can now use ticket-based triggers for automated workflows.
The dreaded my printer isn't working ticket can now be entirely, and easily, auto-remediated easily through the Automation Workflow Builder.
A brief overview of the changes include:
Bi-directional change management between RMM notifications and PSA tickets

When a notification changes in the RMM, if it was already associated with a PSA ticket, the ticket will be updated automatically with information about the change.
New improvements to Automation Workflows allow more comprehensive management of changes.

Map RMM devices and PSA configuration items

Devices can be optionally mapped to existing PSA configuration items, or the mapping can be configured to create a new PSA configuration item that will automatically be associated (mapped) with the RMM device.

Mapped devices will automatically be linked to PSA tickets that are associated with RMM notifications for the given device.

NEW PSA ticket management capabilities to the Automation Workflow Builder for customized process automation

Trigger

PSA Ticket has closed

 

– will trigger when a PSA Ticket that is associated with an RMM object (device or notification) has closed in the PSA.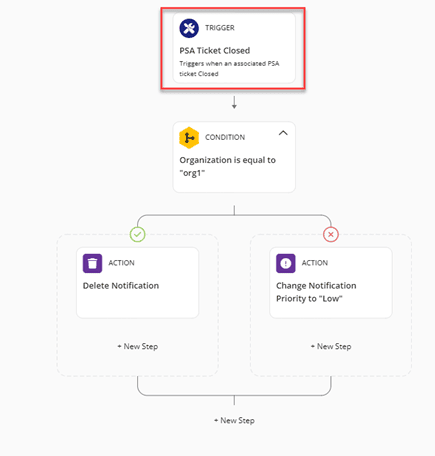 Conditions

Ticket has been created

 

– provides true/false validation logic to determine if a PSA Ticket was already created for the selected Trigger type.
Ticket has been opened for the same alert within "x" hours

 

– this is useful when a new RMM notification is triggered but you want to validate whether there is still an open PSA ticket for a previous RMM notification of the same type, within a configurable timeframe. Using this option allows you to build workflows that update previously opened PSA tickets.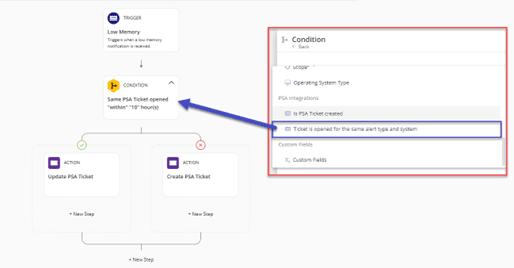 Actions – the actions will show PSA vendor-specific attributes (ie. Queue, Priority, Status, etc) when a PSA integration is active. When no integration is active, the vendor-specific attributes will not be available within these actions.

Create Ticket

 

– Allows creation of a new PSA ticket.
 

Update Ticket

 

– Allows updating of an existing PSA ticket.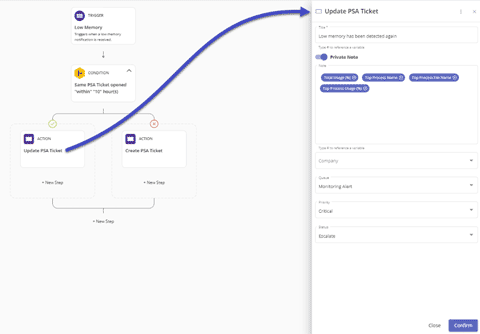 We have updated the notification pages to provide a contextual deep link for easy navigation to the associated PSA Ticket